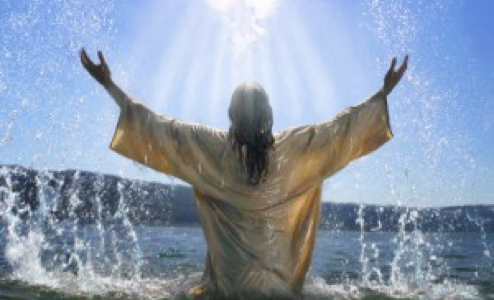 1 Peter 3:21-22 Baptism, which corresponds to this, now saves you, not as a removal of dirt from the body but as an appeal to God for a good conscience, through the resurrection of Jesus Christ, 22 who has gone into heaven and is at the right hand of God, with angels, authorities, and powers having been subjected to him.
Peter here compares baptism with the salvation of Noah and his family through the Ark. Here is taught that baptism is not just symbol but also substance: "baptism… now saves you". Through the water of baptism, we die to our old nature that shares Christ's incarnation to be raised with a new nature that participates in Christ's resurrection. Baptism doesn't remove the outward uncleanness of our body but the inward pollution of our conscience which is done away with through the new creation implanted within us.
Here is the idea that sacraments are the earthly means that God uses to release His heavenly presence and power to us. Therefore, when we participate in these sacraments by faith, we receive the salvation blessings of forgiveness of sins and healing of our bodies, souls and spirits.

That sacraments are not just symbols but also substance is not something I have given much serious thought. But my reading of N.T. Wright's Surprised by Hope has given me new understanding of the materiality of salvation--namely that God saves not just spirits but also the material world of space and time. In Baptism and Communion, we experience the fusion reality of the new heaven and new earth in those sacramental acts. God's goal in redemption is to restore everything "on earth as it is in heaven".

In this regard, I have to learn to appreciate more deeply the substance contained in the sacraments of our worship to God. I must not resist the Platonic temptation to reject the sacramental acts as merely symbolic and superstitious but learn to receive them as substantial means of God's grace to us.

Father, thank You for the sacrament of baptism, that it is not just symbol but substance. Help me appreciate all the symbols that are substantial and not reject every symbol in worship as superstition. Amen.