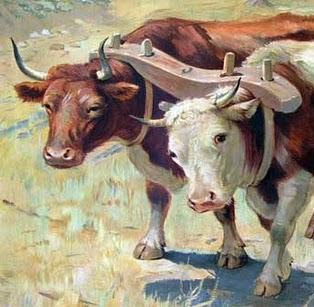 Matt 11:25-30 At that time Jesus said, "I praise you, Father, Lord of heaven and earth, because you have hidden these things from the wise and learned, and revealed them to little children. Yes, Father, for this was your good pleasure. "All things have been committed to me by my Father. No one knows the Son except the Father, and no one knows the Father except the Son and those to whom the Son chooses to reveal him. Come to me, all you who are weary and burdened, and I will give you rest. Take my yoke upon you and learn from me, for I am gentle and humble in heart, and you will find rest for your souls. For my yoke is easy and my burden is light."
I remember a godly and elderly sister in Christ whom I respect very much once said: "I'm resting only when I'm moving." She is active in ministry well into her sixties and now seventies. At that time, I found it humorous, knowing that she is one person who could not sit still. But perhaps, she has uttered a profound truth unknowingly, a truth that has escaped me until last Sunday when I heard a sermon in church expounding Jesus' saying above.
Jesus says, "Come to me, all who are weary and burdened, and I will give you rest. Take my yoke upon you and learn from me." I often preach this verse as "work must flow out of rest". But the speaker was saying differently. He said the yoke represents work, as it is placed on oxen to enable them to plough the field. While he was saying that, a revelation came to me: the rest Jesus promises is not freedom from work, but doing His work instead of our own work, which is wearisome and burdensome.

So, Jesus is saying that if we are weary and burdened it's because we are doing our own work, not His. If we want to find rest, then we have to do His work ("take my yoke"). And Jesus' work is kingdom work. So, if we really want the true "rest for your souls", we should take on Jesus' kingdom work! So the "rest for your souls" that we are seeking after a week of work in the offices is not freedom from ministry but involvement in ministry.
Just this past Wednesday, while in office I was informed by the chaplain of an elders' home that the foreign nurses' fellowship was to resume that evening: could I come as he is leaving and handing the chaplaincy to the new chaplain? Since it was very last minutes, I couldn't put together a team (except my wife) and agreed to go, preparing the songs and message on the fly. When I arrived I was still struggling with the songs while trying to put together in my head the message to share. I was feeling a little stressed out and tired by this rush. But when the evening was over, I felt refreshed and recharged. In fact, I was so energized, I didn't feel ready for bed until quite late that night. The ministry work was "rest" for me. Jesus' yoke was indeed easy and burden was light and I found "rest" for my soul that night.
Biblical rest is never doing nothing and just "sitting at Jesus' feet." Yes, we do need to set aside daily time with the Lord in His word and in worship. But that is only half the story--the other half is putting on Jesus' yoke with the attitude of meekness (NIV: "gentle") and humility: "learn from me, for I am gentle and humble in heart" (v.29). The word "gentle" in Greek is praus, is better translated "meek" as in Matthew 5:5 ("blessed are the meek (praus)"). Meekness is a disposition of submission towards God, rather than attitude towards people. If we are totally submitted to do God's work and willing to humble ourselves before Him, we will find rest as we work along with His Spirit.
So, for Jesus, kingdom work does not flow from rest. Kingdom work is rest. No wonder the sister in Christ said: "I'm resting only when I'm moving!"

Father, grant us rest for our souls by getting into Your kingdom work. Amen.