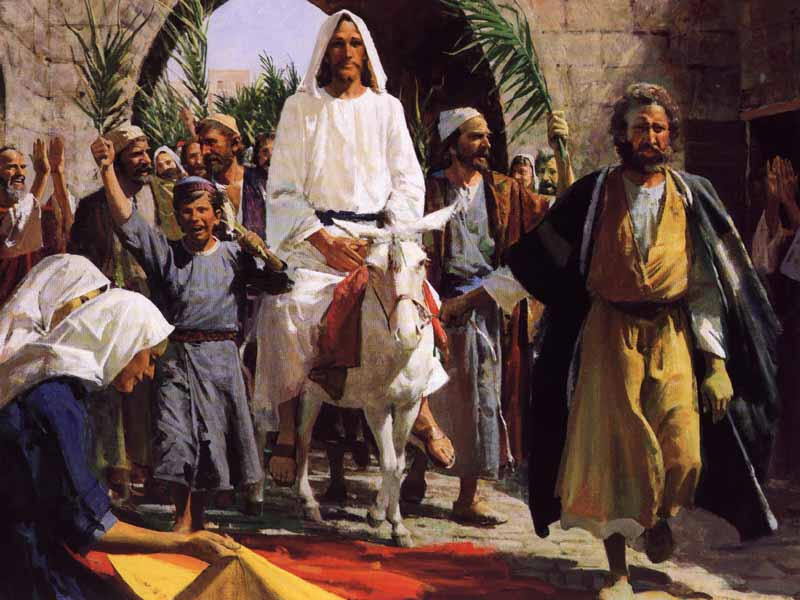 Zechariah 9:9, 16-17 Rejoice greatly, O daughter of Zion! Shout aloud, O daughter of Jerusalem! Behold, your king is coming to you; righteous and having salvation is he, humble and mounted on a donkey, on a colt, the foal of a donkey... On that day the Lord their God will save them, as the flock of his people; for like the jewels of a crown they shall shine on his land. For how great is his goodness, and how great his beauty! Grain shall make the young men flourish, and new wine the young women.
Zechariah 9:9 is one of the best known passages of the Old Testament and is always quoted on Palm Sunday, the Sunday before Easter. It describes Jesus descending into Jerusalem on the foal of a donkey. It is an image of humility, that the coming king is riding into Jerusalem on a donkey rather than mounted on a horse. But the people shouted nevertheless, "Hosanna in the highest! Blessed is he who comes in the name of the Lord!" They laid palm leaves in his path to acknowledge his kingship.
However, what is striking in this imagery of the King of kings on a donkey is its incongruity with the world's idea of greatness. For the world, greatness is associated with pomp and pageantry but for Jesus, greatness is associated with lowly parade and presentation. A king on a donkey is one which is likely to make the Romans laugh. What this imagery of greatness tells us is that greatness has nothing to being high and mighty but much to do with humility and modesty.
Even the imagery of Christ born in a stable on a manger and worshipped by lowly shepherds and three wise men from the East tells the same story--that Jesus, though equal with God, willingly humbled himself so that he might become obedient unto death, even death on the Cross: "
Have this mind among yourselves, which is yours in Christ Jesus, who, though he was in the form of God, did not count equality with God a thing to be grasped, but made himself nothing, taking the form of a servant, being born in the likeness of men. And being found in human form, he humbled himself by becoming obedient to the point of death, even death on a cross
" (Phil. 2:5-8).
Humility is a choice to forsake position of power for the privilege of humble service. But what is more amazing is that humility is a core attribute of God. If there is one reason why we should be humble, it is not because God is so great and we are so small. Rather, it is because greatness has to do with humility and our great God is humble. We too can be great if we choose to be humble, for Jesus was exalted because He was willing to humble himself. In the verses following Phil. 2;5-8, Paul tells us that for this reason, "
God has highly exalted him and bestowed on him the name that is above every name, so that at the name of Jesus every knee should bow, in heaven and on earth and under the earth, and every tongue confess that Jesus Christ is Lord, to the glory of God the Father
" (Phil. 5:9-11).
From birth to death, Jesus walked the path of humility deliberately--choosing to take up the Cross and willing be treated like a servant rather than as royalty. The mark of true disciple of Christ must be humility, for humility is an attribute of Christ-like character.
Father, thank You that in Christ, You have shown us what true humility is--that it is a choice to take up the Cross and walk the path of servanthood and obedience rather than to seek for popularity and power. Amen.