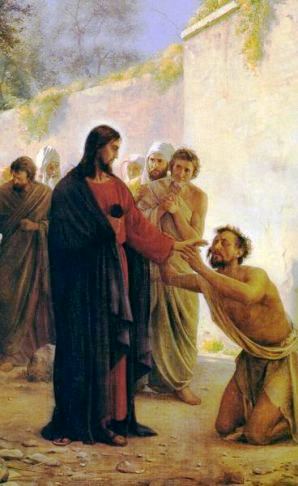 Luke 5:12-16 While Jesus was in one of the towns, a man came along who was covered with leprosy. When he saw Jesus, he fell with his face to the ground and begged him, "Lord, if you are willing, you can make me clean." Jesus reached out his hand and touched the man. "I am willing," he said. "Be clean!" And immediately the leprosy left him. Then Jesus ordered him, "Don't tell anyone, but go, show yourself to the priest and offer the sacrifices that Moses commanded for your cleansing, as a testimony to them." Yet the news about him spread all the more, so that crowds of people came to hear him and to be healed of their sicknesses. But Jesus often withdrew to lonely places and prayed.
This story about the healing of the leper raises the perennial question as to whether it is God's will to always heal the sick. The leper's petition, "Lord, if you are willing, you can make me clean" and Jesus' reply, "I am willing. Be clean!" raises three possibilities regarding this question:
(1)
God is able, but not always willing
("
Lord, if you are willing...
"): Almost all Christians believe that God is able - He is omnipotent and therefore can do anything, including raising the dead--if it is His will. But not all Christians believe that God is willing -- or at least, He does not always heal every sick person. His will is sovereign -- which means it's unpredictable. He may or may not heal a particular person. So, the leper's petition reflects his uncertainty about God's willingness to heal him: "
if you are willing, you can
". This view seems to be supported by Paul's statement in 1 Corinthians 12:11, "
All these
(manifestations of the Spirit, including healing)
are the work of one and the same Spirit, and he gives them to each one, just as he determines
." The prerogative to heal is God's. It is entirely up to God, not us.
(2) God is willing but not always able ("...you can make me clean"): The leper's words suggest doubt about whether God would be able to heal him--perhaps he would have to live with his leprosy due to his lack of faith or to other unknown "mystery" of God. The leper's doubt is not entirely unjustified, for we read in Mark 6:5-6 that Jesus "could not do any miracles there, except lay his hands on a few sick people and heal them. And he was amazed at their lack of faith." In similar vein, Matthew 13:58 says that Jesus "did not do many miracles there because of their lack of faith." In other words, God was willing but not able because there was a lack of faith in the people. But Jesus did heal a few who came to him because they believed in him. This view is also expressed in the father's petition to Jesus in Mark 9:22-23, "But if you can do anything, take pity on us and help us." Jesus' reply tells us the ball is not on God's court, but on ours: "'If you can'? Everything is possible for him who believes." Here, the responsibility for healing rests entirely on us--our belief system.
(3)
God is always willing and able
("
I am willing...Be clean!
"): This brings us to the final position often associated with "Prosperity" Gospel, viz., God is not only willing, he is
always
able to heal. Anyone who approaches Jesus for healing will be healed. It may not always be instantaneous, and sometime delayed or progressive, but the sick will always be healed because it demonstrates God's ultimate purpose in proclamation of the Gospel of the Kingdom. So when Jesus says, "I am willing", he was not expressing a
particular
will of God but a
general
will of God. Healing is part of the Gospel message: it confirms the truth of the Gospel. So Mark 16:20 says, "
Then the disciples went out and preached everywhere, and the Lord worked with them and confirmed his word by the signs that accompanied it
" (Mark 16:20).
So, when someone comes to Jesus and asks for healing and he is not healed, it seems that the issue lies not in some "mystery of God" but in us. Healing prayer is like any other prayer and the basis for receiving God's blessings (His grace) is always faith. But faith can be hindered by many things, not the least of all is our belief systems. Those churches that believe that God is willing but not able experience what they believe -- namely, no one get healed because no one is praying with expectation of healing. Those churches that believe God is able but not willing also suffer from a lack of faith--and so they experience few miracles, like the townfolks of Nazareth. Those churches that believe that God is able and willing will see many miracles of healing. Of course, there will be still be some who are not immediately healed, but when the personal issues are sorted out (like wrong belief system, unforgiveness, demonic oppression, disobedience, etc), they will be healed in due course.
Healing is part of the complete sanctification of every believer that includes our spirit, soul and body: "May God himself, the God of peace, sanctify you through and through. May your whole spirit, soul and body be kept blameless at the coming of our Lord Jesus Christ. The one who calls you is faithful and he will do it" (1 Thess 5:23-24).
Father, we thank You that healing is Your will because You want to keep us blameless (free from sins and sicknesses) at Your coming. Thank You for Your promise in Mark 11:24 that whatever we ask for in prayer, and believe that we have received it, and it will be ours. Amen.